Six Star Bojangles is a striking individual, loaded with real meat and thickness, he has a pedigree filled with greatness and an especially brilliant maternal side. One of the first Hawkeye 444E sons born in Australia, he displays smoothness of muscle and outstanding soundness, with incredible feet and leg structure – he is all class. Q100 has semen rights sold to INC Canada for both the USA and Canadian breeders. We also sold a half share in the bull to North East Genetics for $35,000. We have our first of his calves here at Six Star and what a cracker he is. If he's any indication of how well Bojangles is going to breed on as a sire, everyone using him will be over the moon.
Q100 was shown only once at Beef Australia, Rockhampton where he was awarded first in class. We are using Bojangles as one of our main joining sires as we regards him to be an important cog in our program moving forward. He is the older full brother to the outstanding Six Star Justice. His Dam, Six Star 300X Unique K22 is an awesome brood cow by the breed icon Stands Alone, she is super sound with an abundance of milk, beautiful teat size and a square flat floored udder.
With the great champion of the world winner Hawkeye as his sire, Bojangles is set to be one of the breeds elite sires. Don't miss your opportunity to use one of the best bulls in the breed.
Greg Ebbeck
Semen Available Now in New Zealand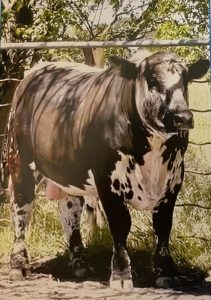 Enquire